Dr Gustav Dippenaar – Senior Veterinary Surgeon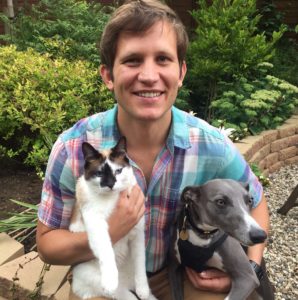 "I was born in Johannesburg and grew up in a small coastal town called Fish Hoek, near Cape Town, South Africa. I qualified as a vet from Onderstepoort, Pretoria. I've spent time working as a veterinarian in South Africa and the United Kingdom before relocating to the Gold Coast, Australian and joining the Pet Wellness Centres team. In my free time I love being active and spending time with my wife, Moya and playing with our cat Mushu and Flynn and Zara (our Whippets). Moya and I hope to participate in many Aussie triathlons. We love running on the beach with Flynn and we're looking forward to exploring Australia together."
Bella – Senior Veterinary Nurse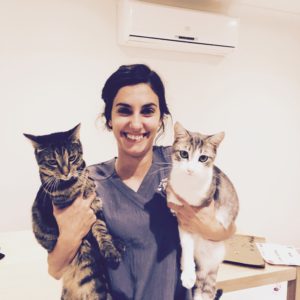 "Hi Animal Lovers! I'm Bella, Senior Veterinary Nurse at PWC. The love for animals in my family runs through generations, so I was born to live and breath animals. I have been nursing for 8 years now and I find no greater pleasure than helping animals big or small, feathers or fur!
My nursing adventure started at a bird and reptile specialist which gave me great insight into species that aren't domesticated like our dogs and cats. I then moved to a small animal practice and fell in love with the fur kind. There's no saying whether I'm a dog, cat or bird person. I love all animals and give every species in my care the tender love and care they need.
At home I live with my partner and our 7 year old daughter. We have 2 cats Loki and Ivar, as well as a cheeky Boston Terrier named Bjorn!
Pet Wellness Centre is a place to call home and I will strive to give your pets the very best care possible in the hope that Pet Wellness Centre can become their home away from home too! I'm looking forward to meeting everyone's wonderful pets and of course the pet's wonderful owners!"
Cass – Veterinary Nurse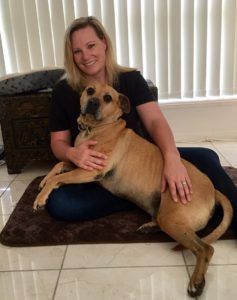 "Hi, I'm Cass and I am a vet nurse at PWC. I'm a lover of nature and of all animals. I'm glad to be part of the wonderful happy team at Pet Wellness Centre. I am totally dedicated to giving animals and pet lovers the utmost attention and care.
I have had an interest in and love for animals since my early childhood. I grew up on a large rural cattle property within the New England region of NSW and it was here that I began my veterinary nursing career 15 years ago. Since then I have also had experience working in pet care and minding, RSPCA and animal welfare, animal administration and many years of hands on farming experience.
Dodge is my 11 year old Bullmastiff X Staffy and my best mate (R.I.P. 15.09.17 Dodge). PWC is my second home and I'll be a large part of the love and care your pets receive here. I'm looking forward to meeting your beautiful pets and of course meeting you, their loving humans!"
Niki Mayan – Trainee Vet Nurse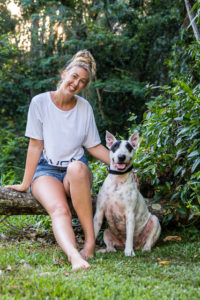 "Hey everyone! My name is Niki. I am studying to become a veterinary nurse and am so lucky to be a part of the PWC team on this journey. I grew up in Port Stephens, near Newcastle NSW and made the big move to the GC with my partner Max and our fur baby Boss a couple of years ago. I have grown up always having dogs (Boxers and Bullmastiffs) and now have our Bull Terrier "Boss", so I have a bit of a soft spot for big dogs. I got my first pony when I was seven and have been in love with horses ever since. I always make it a must do to go for a horse ride when I visit home. In my spare time I love to photograph dogs, and anything with a pretty landscape. Anything to do with nature and animals just makes life happy. I can't wait to meet you all and your babies of course ☺"
Dr Karen Higginbottom – Animal Behaviourist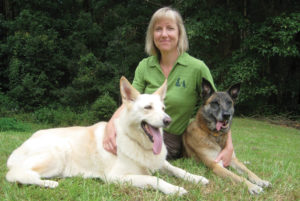 "I'm responsible for the behavioural wellness of your pet – in other words, helping you to ensure your pet is happy and well-behaved! I believe that a dog or cat's behaviour is just as important to their wellness as physical health. Did you know that behavioural issues are the biggest reason young pets are euthanased or surrendered? Getting the right advice and help with your pet's behaviour and training is vital.
I've spent the last six years helping Gold Coast pet owners to resolve behaviour problems, through my business Canine Behaviour Solutions. Prior to that I was a university lecturer and researcher in wildlife behaviour, biology and management. I have a PhD in animal behaviour, and postgraduate veterinary training in behavioural medicine. I'm a Delta-accredited dog trainer, a dog obedience instructor, and for the last few years have been the resident behaviourist at the Gold Coast Dog Obedience Training Club.
I've always had a passion for animals, and for understanding their behaviour. I've owned horses, goats, dogs, cats, ducks, chickens, and rabbits; as well as caring for sick and injured native animals. As a nature-lover as well as animal lover, I live on a Land for Wildlife property in Tallebudgera Valley with my husband. We're the devoted "parents" of a super-energetic young kelpie 'Zulu' and a beautiful Burmese cat called 'Che'."
Karen Shield – Holistic Pet Therapist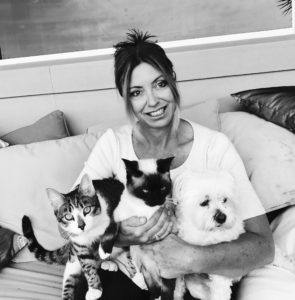 "Hi I'm Karen, I'm a long time Burleigh Heads local and I live here with my hubby Jason and three beautiful kids. You probably recognise my face as the lady who talks to your pet every time you walk past!
I was born into a family of dog breeders and learning to crawl surrounded by puppies left me no choice but to love pets unconditionally. This continued through my childhood of which I spent the vast majority working at the local dairy farm where I agisted my first pony. My love for animals continued through high school on the Gold Coast and I soon commenced work as a casual veterinary nurse whilst completing school. I then took a side step and studied a Science degree and Post Graduate studies in Psychology. I spent many years working with people who were recovering from mental illness. Pets played a major role in their treatment plan to get well whether that be walking the dog for exercise or partaking in mindfulness with their pets.
Realising my husband would only allow me to keep four pets at home I had to find another way to play with and cuddle pets all day, hence I went and studied a Diploma in Animal Acupuncture Therapies. Now I can honestly say I have the best job in the world.
I'm really looking forward to working in conjunction with Dr Gustav to ensure an integrative approach to managing your pet's health and wellbeing."
Sarah Taggart – Canine Physical Rehabilitation Technician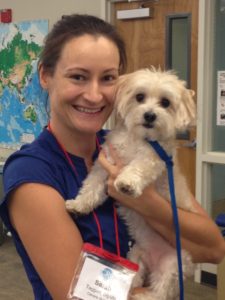 "I'm Sarah and I'm a qualified Canine Physical Rehabilitation Technician at Pet Wellness Centre. What a mouthful! This basically means that I'm here to support and guide your pet through a really stressful period postoperatively or conservatively if your dog requires it. I treat patients with massage, Class IIIb Laser Therapy (Spectravet), trigger point therapy and the most fun is therapeutic exercise in our "Gym" area using a range of equipment. This all aids in slowing down muscle atrophy, increasing mobility and function and reducing compensatory dysfunction. Improving your dog's ability to comfortably move around is my goal.
I qualified in 1999 with a Diploma of Veterinary Nursing in New Zealand and worked for 5 years in a veterinary teaching hospital before deciding to embark on a journey to the UK. I became RCVS qualified in the UK to ensure I could work alongside other nurses in my profession at the highest level possible. During my 4 years in the UK I had the opportunity to work with some amazing Vets and nurses and travel all over Europe. I met my Australian fiancé in London and in November 2007 made the decision to move to the beautiful Gold Coast.
I worked in a specialist hospital for 6 years on the Gold Coast which is where my passion for Canine Biomechanics emerged. As there was nowhere in Australia to do further study, I took the plunge and spent two years travelling back and forth to America to complete my Certification in Canine Rehabilitation Assistance. I'm so excited to be bringing the advancing world of Canine Physical Therapy to the Gold Coast and to work alongside Vets to ensure we use a "whole-istic" approach to improving your pet's physical function. I am committed to Continuing Professional Development to ensure I stay up to date and am able to offer the best for your pet.
I live here on the Gold Coast with my fiancé, our beautiful daughter Georgia and our 2 beautiful rescue fur babies Smidge and Neisha. I look forward to meeting you!"
Cathy May – Chief Wellness Officer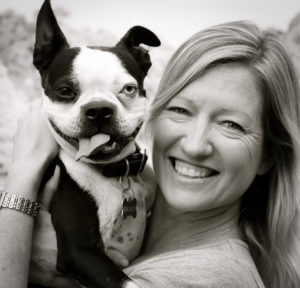 "I'm Cath and I'm the Chief Wellness Officer! I call myself Chief Wellness Officer because ultimately I'm responsible, not just for the wellness of the pets but also for the wellness of the team, the wellness of our supplier relationships, the wellness of our stock and products, the wellness of our business and our contribution to the wellness of our community! Phew! It's a big job but with Dr Gustav, Bella, Cass, Dr Karen, Karen, Sarah and all of the great supporters we have helping us in the background I know we can do it well.
I believe pet care can and must continue to be improved. Our pets mean so much in our lives and they deserve the best care. I love animals. I grew up on the Gold Coast/Tweed Coast and we always had a house full of pets: dogs, cats, guinea pigs, native birds and chickens! My mum, sister and I all worked at Currumbin Wildlife Sanctuary when I was young and I used to go out rescuing birds and wildlife feeling like I was a hero. I even dressed up in the Lorikeet suit and ran around the bird feeding arena to entertain the kids! Yep, I love animals but it's the bond between animals and humans and the impact that has on the wellness of both and the community that I'm really driven by.
The little guy with me in the pic is BRAIN and he was the inspiration for the Pet Wellness Centre. Sadly we had to say goodbye to Brain on the 18th October, 2017 but his legacy lives on in the love and care that all pets receive in our Centre. Brain is succeeded by a very stubborn and cheeky little Boston named Harry, whom we adopted so that we can help him with his severe growth issues in his back legs. Harry and I love hanging out with my husband Baden and our kids Mariel and Bryce. Brain made our life better, every single day and now Harry does the same. I'm sure pets make us better people.
It's my pleasure and honour to serve you and your pets at Pet Wellness Centre. Together, we can help pets live longer, healthier, happier lives!
P.S. Keep an eye out for our Pet Happiness Supervisor (Mariel) and Pet Concierge (Bryce) around the Centre …….  ;)"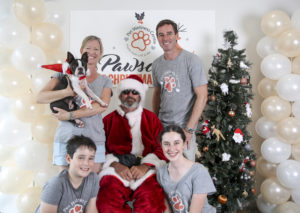 Pet Care delivered with love, care and compassion – from our family to yours xxx
Pet Wellness | Human Wellness | Community Wellness